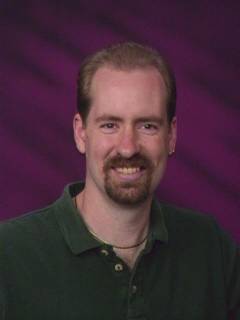 Thomas was born to Norma and Tony Reid in a snowstorm in the mountains of Fort Collins, Colorado, two days before the Christmas of 1966. It's pretty much an accepted certainty that he learned to be a Dallas Cowboy fan in the womb, and this theory is substantiated by the fact that, at six days of age, he took his first airplane ride to Texas, where cousins waving Cowboys- Packers playoff tickets before Superbowl I met his parents at the gate. He spent the first two years of his life living in Colorado and Virginia before the family moved back to Texas.
Growing up in the Dallas-Fort Worth area, Thomas quickly learned to love the Texas Rangers, pan-fried catfish & Tex-Mex, 110- degree weather, cats, and Johnson grass, and to hate poison ivy, fire ants, tornadoes, boiled okra & fried chicken livers, and having more Yankee fans than Ranger fans at the home games. At the age of almost four, he became a professional hermit in order to hide from his newborn sister, Juliana. Thomas whiled away his youth with his best friends Steve Walton, Jerry Smiley, David Swindel and Al Martin, playing Dungeons & Dragons, hanging out at Six Flags Amusement Park, camping, talking sports, or driving his parents' 1953 Wyllis Jeep into the mud, unless his parents made him clean out the garage and mow the grass, of course.
In high school, Thomas performed with the marching, jazz, and symphonic bands, and he once ran over his own trombone with his car. The biggest thrill of his band days was winning the UT Arlington Jazz Festival and being invited to perform at, and attending, the Montreux Jazz Festival in Switzerland in the summer of 1983. Thomas graduated high school in 1985, convinced he was going to be a civil engineer.
After a year at the University of Houston, Thomas returned to the DFW area and changed his major to Liberal Arts. There he spent some of his happiest days, attending college at UT Arlington and playing D&D with all his old friends, whose characters explored the Temple of Elemental Evil together. Eventually, he found his way to Austin, where he met his wife Teresa (while gaming!) and got a B.A. in History from the University of Texas in 1989.
Right after graduating, Thomas made a living in various odd capacities (like selling books and building wooden swing sets in Texas and doing statistical analysis for studies on the elderly in Indiana), just like every other well-paid history major. Then, one fateful day, Thomas answered a TSR advertisement in the back of Dragon Magazine seeking professional editors. Being hired by the company that produced his favorite game was akin to becoming a professional baseball player or an astronaut, in his mind, so he and Teresa moved to Delavan, Wisconsin in the fall of 1991.
Thomas lived in Wisconsin for nearly six years, working initially as an editor and eventually being promoted to Creative Director at TSR, Inc. While living in the dairy state, Teresa gave birth to two terrific sons, Aidan and Galen, and the family bought their very first house. When Wizards of the Coast purchased the company and relocated everyone to Washington, the Reid family packed up their van and headed west.
Today, Thomas lives in the greater Seattle area with his beautiful wife and kids, along with two cats named Mystra and Selune, in a nice, cozy house with a great view of Mount Rainier. He's returned to the creative side of things and currently works in the Special Projects Group within RPG R&D at Wizards. Some of his editing and design projects that are personal favorites include Dragon Mountain, a trilogy of beholder adventures, Tale of the Comet, and the lovely golem Angelique in Children of the Night: The Created. In addition to gaming material, Thomas has written a handful of Dragon Magazine articles and a pair of short stories that appear in Forgotten Realms anthologies, and his first novel should see print sometime in 2000.
When he's not working, Thomas loves to go hiking and camping, play with his kids, and root for the Rangers, Cowboys, Stars, and Texas Longhorns. He also loves to play softball, indoor soccer, touch football, basketball, tennis, and golf in the daytime, and to game, read, write, and paint miniatures after dark. Unless he has to clean out the garage or mow the grass, of course.








A special 'Thank you' goes to WotC, Inc. I copied the bio from their database.